Csqn SAS Messages





Warning Order

1st Btn. Rhodesian Light Infantry 49th Birthday
Date: Saturday, 6th February,2010
Venue: Durban KZN
Attend: ex RLI ouens, families, friends, associates
In attendance, Lt. Gen. P.G. Walls and Mrs Walls, the Patron, Lt. Col. R.F Reid Daly

More details on request.



---
Obituary: Michael Pelham


Thank you for your love and friendship, and for letting everyone know how things are going. We received so many lovely emails from dad's friends.
Dad passed away at 9pm last night (November 04.) His family were all with him and it was much quicker than the doctor had anticipated and for that we are very grateful. We miss him so much, but we all know that he is now free from pain and with God in a wonderful place and we will see him again one day.
We will hold the memorial service in Durban and we will let you know when it is. We would love to celebrate dad's life with all the people who have shown him such a lot of love and support. Dad really enjoyed the lunches with you all, so we will have a lunch and toast that friendship.
I will be in touch as soon as we have arranged everything.
God bless and lots of love,
Jenny, Anne, Michael, Graham and all the Pelham family.
Footnote by ORAFs Mike was a ORAFs member and involved by sending in snippets of information. He will be missed.
He was the Director of Engineers in the Rhodesian Army.
Michael was in Kenya at the time of death.
Messages can be sent to Terry Griffin on terry.griffin@liblink.co.za
Sincere thanks to Terry Griffin
ORAFs records its deepest sympathy to the Pelham family.
Distributed to ORAFs and Friends



---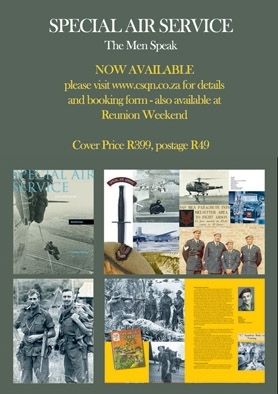 ---



It has come to our attention that other publications/newsletters are using some of the articles from this site for their own use. We dont have a problem with this but would like an acknowledgement of where the article was sourced. Thank You



---



To Whom It May Concern
I have read some literature on your site that mentions Eddie Savage, and some names of others he was with.
I am Christopher Edward Savage, his son, and would love to know more about him, and maybe catch up with some of his old mates...
Regretfully he passed away when I was still a lightie.....
If anyone can help or steer me I would be grateful...
Chris.Savage@offspecstone.com

Many Thanks.



---



3 September 09

Click HERE to read about a book soon to be released detailing the Hunyani Viscount shooting down, written by an ex member


31 August 09

Gentlemen please note your name WILL NOT APPEAR on the members list on the website unless you request it. It does not automatically appear because you are an ex member or have paid your subs.



---



28 August 09

the Association is intent on having a Statuette of an SAS Soldier sculptured as a Limited Edition for sale? We are calling for suggestions and ideas on the nature of dress, equipment and posture of the soldier. We invite ideas so that our members can participate in the project and develop a feeling of ownership around it.

We will discuss ways of providing an incentive to those with the most well thought out inputs, including the adoption of a name for the figurine (RLI's statuette, predictably is known as The Trooper or Troopie). I am hoping to invoke enthusiasm for the project. There are other statuettes of SAS soldiers that have been produced, mainly in Britain and these may be viewed on the internet in order to get perspective.

We are planning to develop the project in conjunction with an organization that has experience in these matters, including the marketing (we will not advertise who as this stage, as many loose ends have to be tied up





---
Hi all

we have just received the sad news that Peggy Stockton has passed away after a long battle with cancer.

Peggy s husband Norman is the former secretary of the SAS association,

Norman on behalf of all sas members and sas association members please accept our deepest condolences at this time
---
.


All members in south africa please note that there will be a Special Forces charity golf day on the 22 August 09, anyone interested in participating please contact us



---



To all members.

Anyone wishing to attend the UK reunion this year please let us have your details ASAP so as to arrange entry



---
.


Hi I am doing some video interviews on David Collins military service with Csqn, and hope Csqn would help me?
Is there any former Csqn members living in the UK, that would be interested in taking part
Or any memories former comrades, could share with me of David time in Csqn,

Regards Tom Duggan

Thomas.Duggan@edfenergy.com
---
To all members be advised this years reunion will be the weekend of the
13th and 14th November,

Normal format

Friday night get together
Saturday morning memorial service
Saturday evening reunion dinner

more details to follow
---



It is with deep regret that I have to inform you that my brother Trooper Barry Holt has passed away on the 19th February 2009 in Harare, at this stage I have no further details of how he died as no-body has let me know if anyone would like to contact me in connection with my brother please feel free to do so my e-mail address is Janice@belvon.co.za Thank you



---